Linda is a Dorset writer. Previously Head of a Secondary School Music Dept., Director of Community Theatre and Writer & Composer of musicals for young people.  She studied script writing with Sam Potter & Barney Norris (Out of Joint ), Angie Street (Salisbury Arts Centre), and Sharon Clark and Matt Grinter (Bath Theatre Royal). She was a founding member of Salisbury Fringe Festival of New Writing and is an active member of  Directors Cut Theatre Company directorscuttheatre.co.uk.   In 2019 she launched Bob Theatre Company with writer Sally Lewis.
See C.V. for Writing Credits   C.V. 2021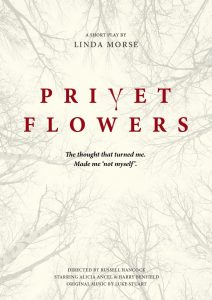 Privet Flowers
Privet Flowers is a strangely beautiful piece about rural isolation.  A man 'invisible' to society finds himself 'turned mad' on the night of a full moon.  He walks across silent fields to a lonely cottage where a woman sleeps alone.  His knife glints in the moonlight ….
First performance : Bristol Bierkeller
Actors: Alicia Anfield  spotlight.com/5818-6753-6196
& Harry Benfield
Director: Russell Hancock
"Of these six plays, perhaps the deepest foray into truly dramatic art, encompassing the poetic, in words spoken with sonorous weight or with delicacy in an atmosphere & sound-world that enhances dramatic experience for its audience, is 'Privet Flowers' by Linda Morse."
 Arthur Duncan for remotegoat on 12/05/15
SCRIPT  AVAILABLE (approx 20mins) – go to Contact Us.
A Shared Breath 
Rehearsals for the original version of A Shared Breath written for 4 actors and given a rehearsed reading at The Salberg, Salisbury Playhouse in 2015.
Actors: Tori Deffee, Samantha Holland, Roxy Dunn & Mark Honan
Director:  Pete Talman