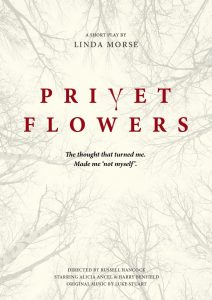 Privet Flowers
Privet Flowers is a strangely beautiful piece about rural isolation.  A man 'invisible' to society finds himself 'turned mad' on the night of a full moon.  He walks across silent fields to a lonely cottage where a woman sleeps alone.  His knife glints in the moonlight ….
First performance : Bristol Bierkeller
Actors: Alicia Anfield  spotlight.com/5818-6753-6196
& Harry Benfield
Director: Russell Hancock
"Of these six plays, perhaps the deepest foray into truly dramatic art, encompassing the poetic, in words spoken with sonorous weight or with delicacy in an atmosphere & sound-world that enhances dramatic experience for its audience, is 'Privet Flowers' by Linda Morse."
 Arthur Duncan for remotegoat on 12/05/15
SCRIPT  AVAILABLE (approx 20mins) – go to Contact Us.
A Shared Breath 
Rehearsals for the original version of A Shared Breath written for 4 actors and given a rehearsed reading at The Salberg, Salisbury Playhouse in 2015.
Actors: Tori Deffee, Samantha Holland, Roxy Dunn & Mark Honan
Director:  Pete Talman